By Brandan Preto
In a recent report by Micheal Marley of Boxingscene.com, Ines Sainz, the sexy Mexican sports reporter for TV Azteca, will work the upcoming Nov. 13 HBO pay per view fight between Filipino boxing star, Manny Pacquiao and Antonio Margarito at Dallas Cowboys Stadium in Texas.
Ines Sainz is known for being the sexiest sportscaster in Mexico and for her recent harassment controversy that occurred in the NFL New York Jets practice facility, where someone reported that she was being harassed with cat calls because of her sexy outfit. Sainz was at the Jets camp to interview Mexican-American QB Mark Sanchez for TV Azteca.
In the report by Marley, Top Rank Promotions Boss, Bob Arum, who is promoting Pacquiao vs. Margarito, requested that the Mexican beauty work the microphone for the weigh-ins and other events concerning the fight.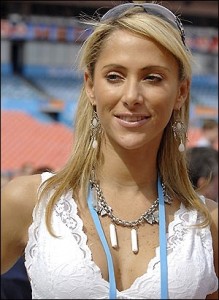 Picture of Ines Sainz
Send your Press Releases, Articles, Opinions, Event Announcements to BayanihanTayo.com and have it published for FREE!