Shortly after suffering a head injury at his Santaquin, Utah home on Wednesday, former child actor Gary Coleman passed away on Friday May 28, 2010 at the age of 42 from a brain hemorrhage.
Coleman died peacefully after he was pulled from life support. He never grew taller than 4 feet 8 inches because of nephritis, a kidney condition which affected his growth. When Coleman was only 5 years old he had his first kidney transplant which required dialysis.
He was famous for the TV sitcom "Diff'rent Strokes" and his character Arnold Jackson. Coleman's character had the famous catchphrase "Whatchoo talkin' 'bout, Willis?", which he directed at his older brother (played by Todd Bridges).
(February 8, 1968 – May 28, 2010) Rest in Peace Gary Coleman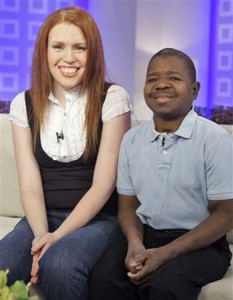 Photo of Gary Coleman and his wife Shannon Price
Send your articles or press releases to Bayanihantayo.com and have it viewed by millions!

Visit the Bayanihan Tayo FORUMS it's FREE!